With Bitcoin being called the new digital gold in comparison to physical gold, here's what you need to know.
Bitcoin price, along with the extended cryptocurrency market, has remained volatile. The largest digital currency was trying to establish strong support at $20,000; however, continuous bearish pressure has not made it possible. It managed to claw its way back up above $20,000 at press time, but does the larger market still consider it a store of value?
Bitcoin Crash and Gold Rush
Bitcoin established itself as a strong Store of Value [SoV] during rough COVID-19 times in 2020 when the global economies were wounded. The rising inflation is threatening the digital Gold feature as an inflation hedge. 
Bitcoin value was 71% lower than its peak at $69,000, resulting in many institutions losing their profits and are now on the verge of failure. Let's compare Bitcoin's market standing with Gold.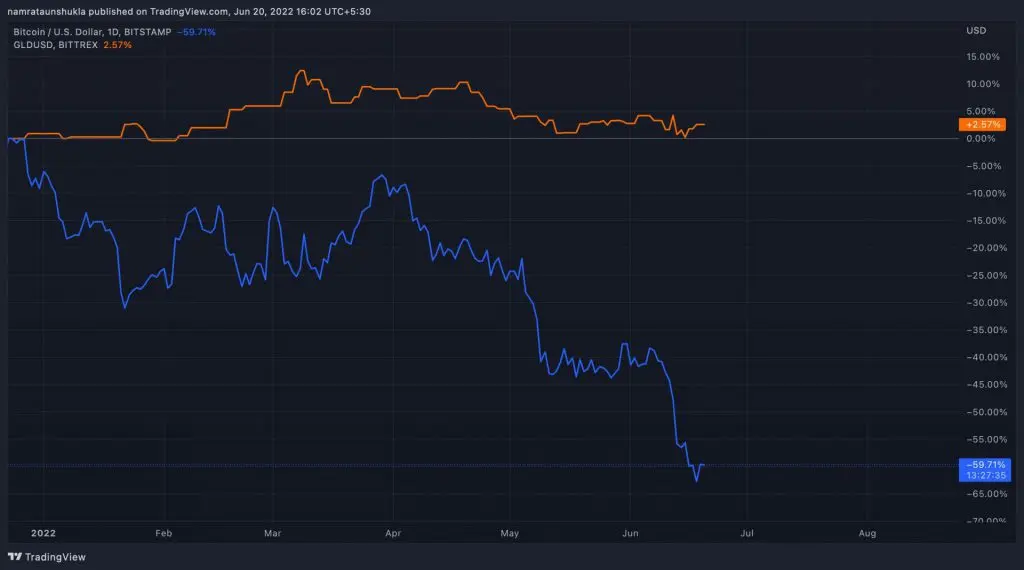 As seen in the chart above, Bitcoin was down nearly 59% year-to-date compared to Gold. Meanwhile, the precious metal gold noted a 2.57% boost in value. Reports pointed out that the king coin tried breaking under $20k during the Asian time of trading and creating a similar pressure in the Ethereum market.
Data suggested large sums of Bitcoin and Ether were on the move. As per the CEO of CryptoQuant, Ki-Young Ju, it could be indicative of either hedge funds filling collaterals for long positions or market markers filling up liquidity to execute sell orders for clients.
While fear looms in the crypto and the traditional markets, of more volatility to come, Gold has sustained its post-pandemic gains. At the price of $1,831 an ounce, gold is down around 11.6% from its post-pandemic high. 
Bitcoin, the touted inflation hedge, seems to be failing the inflation test. Nevertheless, Bitcoin enthusiasts believed this correction was only natural and the crash was just due to collateral liquidating. Simon Dixon, founder BankToTheFuture noted,
"#Bitcoin is crashing as collateral is liquidating. Traditional finance is not built upon collateral, it's built upon Unsecured debt. The underlying asset of fiat is Gold, but it's not backed. The underlying asset of crypto is #Bitcoin but it is backed. #Bitcoin & #Goldsurvive."
Even when Bitcoin skeptic Peter Schiff called Bitcoin dead money as the asset's value was currently sitting close to this previous 2017 ATHs, while contrasting Gold's 40% gains in the same time, a Bitcoinist noted,
Gold has risen a max of 40% the past 5years, while Bitcoin has risen max 300%. From investor's view, bitcoin is better. From hodler's view, price is meaninglessness.

So bitcoin > gold again. Waiting for your next argument. https://t.co/yEQXvNrE29— Heisenberg (@heisenmeth69420) June 20, 2022
While the debate between which one was the better asset continues, the market matures and is currently at a consolidatory phase. The rising inflation will paint an accurate picture of where the digital asset currently stands.
Via this site